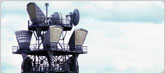 News

2014
Master in Space Technol. for Remote Sensing


Feb 28, 2015: new deadline for master's candidates...
AGU Fall Meeting 2014


The AGU Fall Meeting is the largest worldwide conference in the geophysical sciences...
1st SCORE@POLIBA


WORKSHOP on the State of the art and Challenges Of Research Efforts at POLIBA. Dec. 3-5, 2014...
SPIE Remote Sensing Europe 2014


The largest European meeting focused on the latest developments in remote sensing technologies and applications...
Summer Holidays Closing


Offices closed from August 14 to 29 ...
COSMO-SkyMed for Andora


Detecting man-made instability hazards with COSMO-SkyMed constellation ...
IAEG XII CONGRESS


Engineering Geology for Society and Territory, Turin, Italy, September 15-19, 2014 ...
IGU 2014


International Geographical Union Regional Conference, Kraków, Poland, 18-22 August ...
IGARSS 2014


International Geoscience and Remote Sensing Symposium, Québec, Canada, 13-18 July ...
EUSAR 2014


10th European Conference on Synthetic Aperture Radar, Berlin, Germany, 03-05 June ...
EGU 2014


European Geosciences Union (EGU) General Assembly, Vienna, Austria, 27 April - 02 May ...
Space4You


Nereus conference. Bari, 27-28 February 2014 ...