GeoMeast 2018
Sustainable Civil Infrastructures: Structural Integrity November 24-28, 2018, Cairo, Egypt ...

SPIE 2018
SPIE Remote Sensing Europe, Berlin, Germany, 10-13 September 2018 ...

IGARSS 2018
International Geoscience and Remote Sensing Symposium, Valencia, Spain, 23-27 July ...

EUSAR 2018
12th European Conference on Synthetic Aperture Radar, Aachen, Germania, 04-07 June ...

EGU 2018
European Geosciences Union (EGU) General Assembly, Vienna, Austria, 8-13 April 2018 ...

IGRS 2018
6th International Geo-hazards Research Symposium, Dresden, Germany, 4-9 March 2018 ...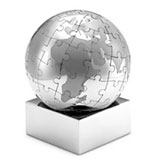 During the last twenty years, in the framework of projects founded by national and international space agencies (ASI, ESA, NASA) as well as by the European Community, the following scientific competences have been acquired:
Synthetic Aperture Radar (SAR) data processing;
Development of a multi-temporal SAR interferometric processing chain (SPINUA © - Stable Points Identification in Non Urbanized Areas) for ground instability monitoring (subsidence, landslides, earthquakes);
Analysis of optical data acquired by satellite platforms aimed at the inference of biophysical parameters such as water quality and chlorophyll;
Meteorological and climate data processing; high resolution forecast services using numerical meteorological models;
Development of signal and image processing algorithms using both interpreted and compiled programming languages (MATLAB, SCILAB, IDL, C, C++) as well as Assembly;
Development of algorithms on parallel architectures and computational grids.

Starting from this scientific background, GAP intends to provide products and services characterised by high level of innovation and scientific / technological contents in the field of remote sensing and related hardware and software technologies:
Production, marketing and customer service;
Feasibility studies, designing, developing and prototyping of innovative procedures for digital signal processing (DSP) dedicated in particular of satellite remote sensed data;
Training activities dedicated to the product users;
Activities of research and development aimed at updating the scientific knowledge in the specific fields of interest.
GAP contributes also to the organization of the Master in Space Technologies for Remote Sensing, organized by University of Bari and promoted by University of Bari, Politecnico di Bari, Italian Space Agency and eGEOS.

Here below the list of the publications of the researchers affiliated with the Remote Sensing Group of the Department of Physics of Bari and/or GAP srl.
RSG - Publications List

Previous Years