GeoMeast 2017
Sustainable Civil Infrastructures: Innovative Infrastructure Geotechnology 15-19 Luglio 2017, Sharm El-Sheik, Egitto ...

WLF4
4th World Landslide Forum - Landslide research and risk reduction for advancing culture of living with natural hazards, Ljubljana, Slovenia, 29 Maggio–2 Giugno 2017 ...

AGU Fall Meeting 2016
L'AGU Fall Meeting è la più vasta conferenza a livello mondiale nel campo delle geoscienze, San Francisco, 12-16 Dicembre 2016...

SPIE 2016
SPIE Remote Sensing Europe, Edimburgo, UK, 26-29 Settembre 2016 ...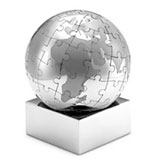 Negli ultimi venti anni, nell'ambito di progetti di ricerca finanziati dalla Comunità Europea dalle agenzie spaziali nazionali ed internazionali (ASI, ESA, NASA), sono state acquisite le seguenti competenze:
Radar ad Apertura Sintetica (SAR) data processing;
Sviluppo della catena di elaborazione interferometrica multitemporale (SPINUA © - Stable Points Identification in Non Urbanized Areas) per l'identificazione ed il monitoraggio di instabilità del suolo (subsidenze, frane, terremoti);
Analisi di dati telerilevati nel campo VIS/NIR acquisiti da piattaforme satellitari per la misura di parametri chimici e biofisici per la qualità delle acque costiere;
Elaborazione di dati meteorologici e climatologici; servizi di previsione meteorlogica ad elevata risoluzione spazio-temporale;
Sviluppo di algoritmi di signal & image processing utilizzando linguaggi di programmazione compilati o di scripting (MATLAB, SCILAB, IDL, C, C++) nonchè in Assembly;
Soluzioni informatiche per architetture parallele e di grid-computing.
Partendo da tale background scientifico, GAP intende fornire prodotti e servizi caratterizzati da un elevato contenuto di innovazione e scientifico/tecnologico nel campo del remote sensing e delle correlate tecnologie HW/SW:
Produzione, marketing e customer service;
Studi di fattibilità, progettazione, sviluppo e prototipizzazione di procedure innovative per il digital signal processing (DSP) dedicato in particolare a dati telerilevati satellitari;
Attività di formazione e training rivolte a tutti coloro che intendono affacciarsi alle tecnologie del telerilevamento;
Attività di ricerca e sviluppo per un aggiornamento continuo del know-how nei campi di nostro specifico interesse.
GAP contribuisce altresì all'organizzazione del Master in Tecnologie per il Telerilevamento Spaziale, master universitario di II livello organizzato da Università di Bari e promosso da Università di Bari, Politenico di Bari, Agenzia Spaziale Italiana e eGEOS.

Qui di seguito riportiamo l'elenco dei lavori pubblicati da ricercatori del Gruppo di Telerilevamento del Dipartimento Interateneo di Fisica "M. Merlin" di Bari e/o dello spin-off GAP srl.

Anni Precedenti