ESA FRINGE 2015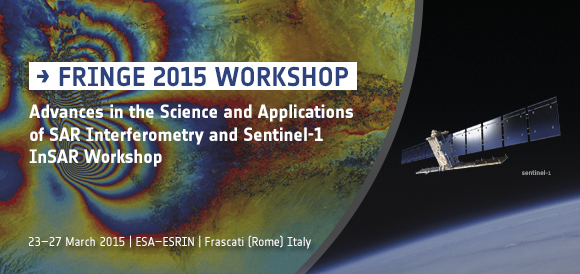 The European Space Agency, in the context of the Scientific Exploitation of Operational Missions (SEOM) element, is organising the 9th International Workshop Fringe 2015 Advances in the Science and Applications of SAR Interferometry and Sentinel-1 InSAR Workshop. The event will be hosted in ESA-ESRIN in Frascati, Italy between 23 and 27 March 2015.
The workshop is open to scientists, Sentinel-1 data users, students, representatives from national, European and international space agencies, and value adding industries.
Major Themes
InSAR Theory and Techniques

General
DInSAR & PSI
Atmosphere
Polarimetric Interferometry, Tomography and other Advanced Topics
Ground-based InSAR
Cross Interferometry

InSAR with Sentinel-1
InSAR Applications

Cryosphere
Earthquakes and tectonics
Terrain subsidence and landslides
Thematic mapping and DEMs
Volcanoes
GAP contributes to the symposium by showing the results of his research activity in collaboration with the ISSIA and IRPI institutes of the National Research Council of Bari and Polytechnic of Bari.
GAP authors and presentations
Projects: CAR-SLIDE (PON R&C 2007-2013) and ADF (Second ASI Call dedicated to SMEs)
Authors: R. NUTRICATO, D. O. NITTI, F. BOVENGA, A. REFICE, J. WASOWSKI, M. T. CHIARADIA, G. MILILLO
Title: Exploitation of Multi-Temporal SAR Interferometry for systems devoted to Environmental Monitoring and Risk Management
Paper 82 - Session title: Poster 2
Time: 2015-03-26 16:50-19:20
Projects: -
Authors: J. WASOWSKI, F. BOVENGA, R. NUTRICATO, D. O. NITTI, M. T. CHIARADIA
Title: PSI for landslide hazard assessment and monitoring: current issues, underexploited and future application opportunities
Paper 39 - Session title: Applications: Subsidence and Landslides
Time: 2015-03-26 11:30-13:30
---
Visit the official website http://seom.esa.int/fringe2015/