ESA FRINGE 2011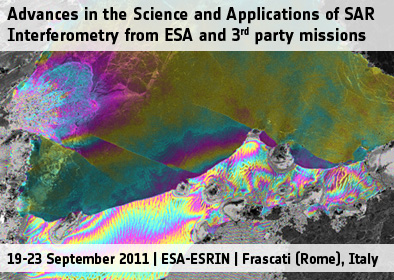 The European Space Agency is organising Fringe 2011, its 8th International Workshop on "Advances in the Science and Applications of SAR Interferometry", which will be hosted in ESA-ESRIN in Frascati, Italy between 19th and 23rd of September 2011. The Fringe series of workshops started in 1992 and they are currently organised by ESA every two years. The workshop is open to ESA Principal Investigators and co-investigators, scientists and students working in the field of SAR Interferometry and its applications, and to representatives from national, European and international space agencies and value adding industry.
Objectives
The main objectives of the workshop are to:
Provide a forum for scientific exchange and to initiate and encourage close collaboration between individual research groups
Present new results from the latest studies in the field and to assess the state-of-the-art
Provide a forum for ESA Principal Investigators to present results and status of AO and Cat-1 projects
Present the interferometric results from the new spaceborne sensors
Discuss the use of InSAR data for scientific research and applications development
Assess the available data ordering and analysis tools
To review and assess the maturity and operational readiness of InSAR applications
Formulate recommendations for algorithm and new products development
Organisation
The workshop is organised around:
Papers and posters selected by the Scientific Committee
Invited papers on ESA-funded studies
Round-table discussions with seed questions prepared by the Scientific Committee and ESA
Demonstration of software tools
Workshop Proceedings to be published by ESA
Proposed Themes
InSAR Methodology and techniques

General
DInSAR & PSI
Atmosphere
Polarimetric Interferometry, Tomography and other Advanced Topics
Ground-based InSAR
Cross Interferometry

InSAR Applications

Earthquakes and tectonics
Ice and snow
PSI & DInSAR validation
Terrain subsidence and landslides
Thematic mapping and DEMs
Volcanoes

Future InSAR Missions

ESA Sentinel-1 constellation
3rd party missions
GAP contributes to the symposium by showing the results of his research activity in collaboration with the ISSIA and IRPI institutes of the National Research Council of Bari and Polytechnic of Bari.
GAP authors and presentations
Project: GEO Geohazards Supersite
Authors: F. BOVENGA, D. O. NITTI, A. GANAS, K. CHOUSIANITIS
Title: Co-seismic deformation due to the Tohoku-Oki Earthquake measured by Envisat-ASAR data and GPS
Session Title: Earthquakes and tectonics
Session Type: Poster
Date: 20-Sept-2011
Start Time: 16:40
End Time: 19:10
Location: Bld 14 - Big Hall
Project: ESA CAT-1 project #7444
Authors: J. WASOWSKI, F. BOVENGA, D. O. NITTI, R. NUTRICATO, T. DIJKSTRA AND X. MENG
Title: PSI helps to map relative susceptibility to ground and slope instabilities in the Lanzhou loess area of Gansu Province, China
Session Title: Terrain subsidence and landslides
Session Type: Poster
Date: 20-Sept-2011
Start Time: 16:40
End Time: 19:10
Location: Bld 14 - Big Hall
Project: AO-COSMO Project ID-1820
Authors: F. BOVENGA, V. M. GIACOVAZZO, A. REFICE, D.O. NITTI, N. VENEZIANI
Title: Interferometric multi-chromatic analysis of high resolution X-band data
Session Title: InSAR Methods
Session Type: Oral
Date: 19-Sept-2011
Start Time: 17:50
End Time: 18:10
Location: Bld 14 - Big Hall
---
Visit the official website http://earth.eo.esa.int/workshops/fringe2011/